Unicum gaming system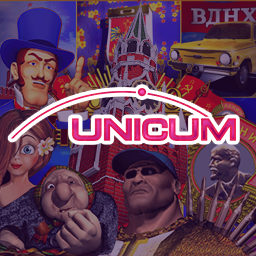 The Unicum company was founded in 2007 and since then is developing slot machines. During 9 years of its activity this brand has become extremely famous among gamblers. The range of Unicum games is small and consists of about 10 slots, among which it is worth noting such famous ones as "Bazar", "Robinson Crusoe", "Gold Party" and "The Fellowship".
Surely, all Unicum slots are unparalleled and memorable, players can see it from the first game they try. Perhaps the most noticeable defining feature of Unicum slot machines is not the number of reels or rows, but "live" characters that can touch feelings of every user. Exciting storylines and a lot of mini levels are also among the advantages of this provider of gambling software.
Unicum, as a relatively young developer, has managed to occupy an important niche in the world of virtual gambling. An important feature of slots that can be found in the Unicum casino is also the possibility to play free games, which is important for new players and those, who do not want to invest their real money. In this case, to try such slots it is necessary to play a slot machine in a demo mode and then to use virtual credit rates. Lost funds will be returned to the user during the next launch of the game. Playing this way it is possible to try all Unicum mini games.
Online casino software from this provider offer games with very interesting and unusual themes. For example, players will be given an opportunity to talk to the charismatic seller of watermelons, to select one of the vintage watches on the market, to unlock safes or to take the food away from savages. Every player can choose a product, which is interesting personally for him.
In the profile of the gaming room there is always an information about the Unicum slots, players' reviews and information about steps of games.
Products from Unicum are designed with a glance to the latest trends of the gambling industry and are based on preferences of the modern visitor of online casinos. Choosing Unicum, no one can complain about the lack of bonus games – there are up to 4 of them in each video slot.
But the real pride of the developer is a unique graphics of Unicum slot machines, which is perfectly combined with animation and sound effects.
For those who would like to buy or rent a casino gaming system from Unicum, it will be a great idea to contact the Gaminatorsystem company, whose professionals will be able to give all necessary information on that matter.
And also you can play Unicum slot machines on our website!