Playsoft gaming system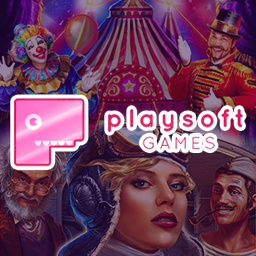 The French company Playsoft Games was founded in 2004 and by now has seven years of experience in developing high quality mobile and social games. Among its partners we can name EA, Namco and Konami. The aim of the company is to provide players with innovative and accessible functionality on all new platforms. Playsoft Games is a part of the Playsoft Group.
Professionals of the company are constantly working on new projects, and this is why Playsoft Games becomes more and more popular. The main activity of the company is the development of gambling software for online casinos. It mostly includes online slots of the highest quality with a professional design and a good sound.
Playsoft games
All slots are almost similar to each other, but specialists from this company can make Playsoft slot machines completely unique. Online slots are characterized by a simple and accessible interface, a high payout percentage, a wide range of games, and very interesting and exciting storylines. Moreover, once in six months the company creates a new slot, which can almost immediately be found in any online casinos.
A new Playsoft tendency has also became a huge advantage, because its aim is to develop mobile versions of video slots for tablets and mobile phones.
So let us look through Playsoft slots and particularly at the most famous of them.
Fruits And Stars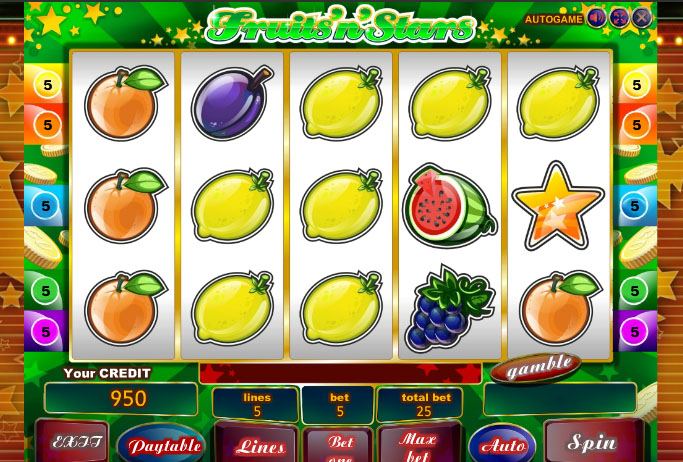 This slot game is one of the most popular one. The principle of the game is similar to principles of all games with "fruit" symbols: you need to collect three identic symbols to multiply your winnings. The most cool one is a combination of seven symbols, it will bring you a really huge prize.
There is also a risk-game in this slot where you need to guess the suit of cards, and if you do it right your bets will be doubled.
Aquatica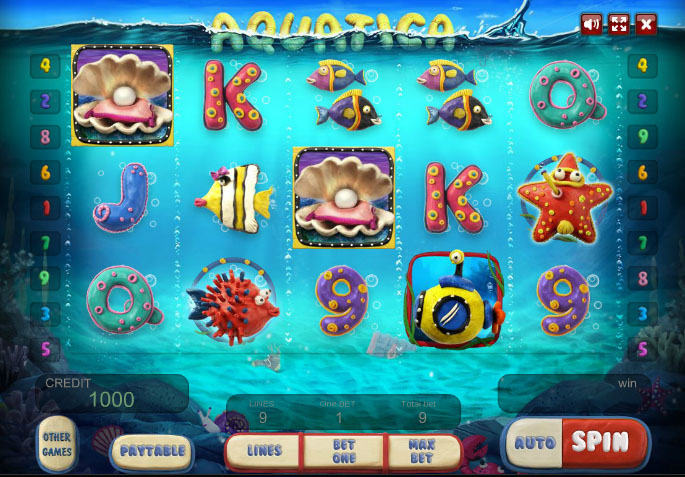 It is a game for very lazy people where you do not need to use mathematics or analytics. This slot has 5 reels, 9 paylines and pleasant 'clay' graphics. Among symbols it is possible to find submarines and pearls.
Submarine is a joker and a wild symbol in this game, and if you get it for 5 times your winnings will be multiplied in 5000 times. A pearl here is a scatter symbol, which doesn't depend on a line and is able to activate free spins if appeared on reels for three times.
Aquatica also have a risk-game, the same as the previous slot. If you guess the card suit you will be able to make you winnings even more huge, but if wrong – you will lose everything.
Magic Forest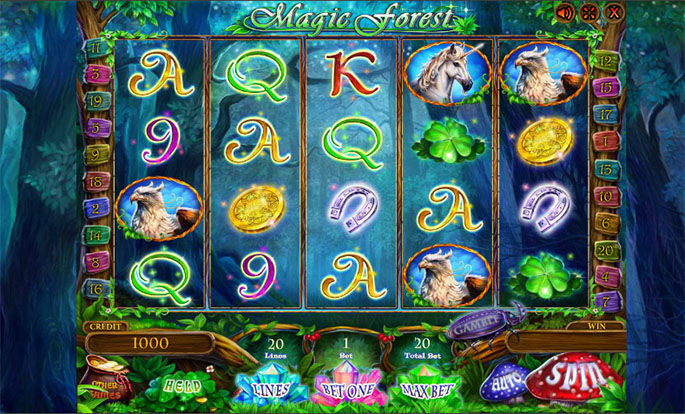 As you may already understood a theme of the game is a forest, which is so colorful and magical that can make players smile and bring them in a good mood. The interface here is simple and graphics – extremely beautiful. In short words, this slot is enjoyable, profitable and simple, designed in HD-format, and thus attracts players and gains a high popularity.
The game has 5 reels and 20 paylines, and among symbols we can see griffins, unicorns, leprechauns, fairies and other woodland creatures, that can bring many pleasant moments and great prizes. For example, a leprechaun, who appear on reels for 3 times gives players free spins and an elf-girl will multiple your winnings.
Almost all Playsoft slots have a risk-game in it, and "Magic Forest" is not an exception. Again, you will need to guess the suit of cards and increase your winning in 4 times! It is possible to play both in a demo mode and for real money.
Advantages of the Playsoft casino gaming system
It is worth noting that online casino software developed by professionals of this company is considered to be the best one. The unique graphics of games and its exciting storylines are the reasons why these products are best among competitors.
We can add that most of Playsoft casino games are integrated into the mobile versions, and if you buy them, you become an owner of unique products that can be very profitable.
You can buy Playsoft Games right now by contacting managers of the company.